April 24, 2019 4:50 am
Leave your thoughts
My name is Tom Grant and I have lived and worked in Quirindi with this great company for almost two years now. A little of my background, before starting here, I worked for a major player within the Australian grains industry, living and working in inner Sydney.
I craved change, without really knowing what I was looking for. To me, the allure to move here, was the charm of a small country town feel, and a company that had a simplified, personable approach with good growth potential.  So with a little courage, and some blind faith, I took a leap and landed in Quirindi working here at Agracom.
Two years later, my family and I could not be happier that we made the change.  At work, with the smaller enterprise approach, I can see the direction the business is taking, and can be involved in discussions to build a longer term strategy. I'm engaged with the company's goals and feel a valued part of the team. Perhaps these are buzz words borrowed from a previous corporate life, but it is refreshing to believe in them! I work for a loyal and respectful employer within a trading team that relies on a close knit approach.  I'm proud to work for Agracom, and of our reputation as an industry participant.  This is tantamount to the responsible and ethical approach  that the business takes at all levels.
Whilst we may be regionally based, we have overcome the divide with cutting edge technology advancements in our communications systems to be globally connected. That's the other thing about working here, we are always on the look out for something new to give us an edge in today's competitive market.   We are an all hands on deck approach, where we help each other out. As a result, my role is highly varied day to day, overseeing all levels of trade and execution but also creeping into other areas of the business from time to time.
Personally, I live in a house that we recently purchased (for a small fraction of the cost of buying the same house in Sydney) on the edge of town with my wife and daughter.  My commute to and home from work has been cut to just a 5 minute drive. Whilst we arrived with very few ties to the region, we have been warmly welcomed into the local community.  This is a diverse area, but one with proud origins as a farming district.  The local sporting calendar features heavily on the social scene, where crowds turn out in droves to support the rugby or the soccer, or for a social game of cricket or tennis through the warmer months.  For us, its an easy run up to near by Tamworth with its wealth of regional services or across to the beaches around Newcastle for a weekend away.  There are national parks, fresh water lakes and  some great near by villages all of which pose day trip options when friends and family visit from outside of the area.
So to sum it all up, for lifestyle, as well as for my own professional development, Agracom and Quirindi has been a great change up for me.  I'm glad to have made the move and am excited about my future here.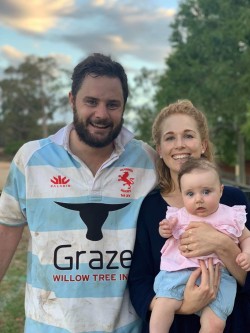 Categorised in: Stories
This post was written by agracom